Belbin Accreditation
Belbin Accreditation is recommended for those who regularly use Belbin as part of their training toolkit (or would like to) and are looking to gain a deeper understanding of Belbin. Whether you're an in-house HR, L&D or training professional, or an external trainer, Belbin Accredited Certification will help you to add even more value when using Belbin.
Belbin Accreditation is recommended for anyone who wants to use Belbin Team Roles to improve the performance of teams, and maximise working relationships.
By attending the Accreditation course, you will discover the real Belbin – and gain the depth of knowledge and practical tools to present yourself as a true Belbin expert.
The course culminates in a 40-minute test. On passing the test, you will be awarded a certificate signed by your trainer and Dr Meredith Belbin, and access to a logo that shows that you are Belbin Accredited. The Accreditation stays with YOU, so it is a real investment in your future.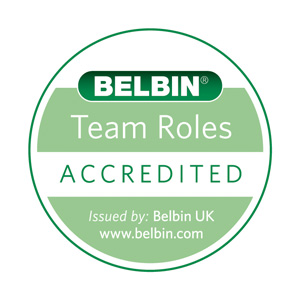 Once you are Accredited, we won't leave you stranded. You will gain access to an exclusive 'Accredited Only' webpage which contains the slides and resources that you need to start using Belbin with individuals, teams and organisations. We keep in touch and guide you through those first few Belbin Reports and team session agendas.
A bit more detail: Why should I become Belbin Accredited?
Discover the real Belbin
You will find that there is more to Belbin than just nine Team Roles – strengths, allowable/non-allowable weaknesses of each Role are explored in-depth, along with combinations of Team Roles, observer feedback, team overviews and job analysis.
Speak the language
The language of Team Roles will become second nature to you over the duration of the course, providing a useful basis to discuss possible team and individual issues.
Plan your workshops
We will give you practical ideas on how to use the reports and theory within a variety of workshops and situations, and how to interpret the reports for 1:1 and team feedback.
Share your knowledge
Your newly acquired depth of knowledge and understanding will hold you in good stead when fielding questions from the more demanding course delegate!
Ongoing backup
Once Accredited you're not alone! If you have any questions regarding the reports – perhaps some advice on how to feedback a particularly interesting profile – or to get some top tips for session ideas, you are encouraged to call the Belbin office. We are here to help.
Further benefits include:
A signed certificate from Meredith Belbin on passing the Accreditation test
Use of the Belbin Accredited Logo (subject to terms and conditions)
Access to the Belbin Accredited website; full of resources, offers, advice and a shop!
Course Outline
The origin, theory and definition of the nine Belbin Team Roles
The relationships between the Belbin Team Roles
How to generate and understand the key Belbin Team Role reports
How to interpret and analyse Belbin Team Role reports (using your own reports if possible)
Uses to which Belbin Team Roles can be applied, e.g. teambuilding, personal and organisational development, coaching, recruitment, training needs and job analysis
Practical exercises on giving feedback to individuals and teams
Use of case studies to show how to use the model to improve individual and team effectiveness
We will tailor aspects of the course to your particular needs and can use presentations, discussion, DVDs, practical exercises and games to facilitate learning.
There is an Accreditation Test (this is a written test which takes about 40 minutes and will be given towards the end of the second day)
I would like to be Belbin Accredited – what now?
Request a Meeting
Do you have questions about how we can help your company? Send us an email and we'll get in touch shortly or phone us between 9:00 and 18:00 Monday to Friday.
By submitting this form I understand that Belbin will share news and information with me via email. We will never share your details with third parties.